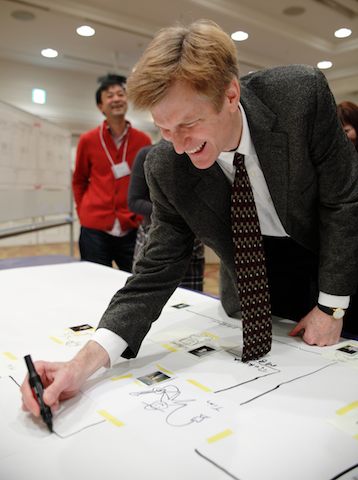 How it Started
After selling his venture in 2000, Tim Clark started teaching entrepreneurship courses in university programs. He liked teaching so much that he decided to pursue a doctoral degree in business and become a full professor.
Midway through his doctoral program, he started working with Alexander Osterwalder and Yves Pigneur on Business Model Generation. It was a terrific fit. He was using the Business Model Canvas in both his entrepreneurship courses and in his doctoral research on international business model portability.
Two things happened during this time.
First, Tim recognized the real reason most students took his entrepreneurship courses: they wanted to change how they worked. More important, it struck him that just as entrepreneurship is a form of career development, career development is a form of entrepreneurship — both center around the search for a good business model. His students were seeking tools to become more entrepreneurial about their careers.
Second, looking at his own professional development, he realized that transitioning into teaching full-time called for an entirely new way of thinking about work.
Tim had long thought that the Business Model Canvas is an ideal tool for teaching entrepreneurship basics, because nothing is more fundamental to a venture than its business model. But one day he wondered, "What is fundamental to my career — what is my personal business model?" He diagrammed his current and future careers on a Canvas, and that experience created a stunning clarity. He was instantly convinced that this approach could help many other people.